South Tyrolean Delicacies
Speck and Sausages from South Tyrol
South Tyrolean Speck: South Tyrolean Speck is a typical form of ham from South Tyrol. The meat will be cured and smoked and then hung in a cellar for several weeks to mature.

South Tyrolean Speck come in various flovors because of different mixtures of spices for the curing process and various smoking procedures. Whether aromatic or mild, served on a cutting board, in dumplings or with bread - Speck is an inherent part of the South Tyrolean cuisine.

Kaminwurzen: "Kaminwurzen" are smoked dry sausages from pork and beef with a rustic, spicy flavor. They are about 18 cm long and 1 cm in diameter.

"Kaminwurzen" are used in a variety of ways. The can be part of a hearty meal or can be enjoyed just as a snack for in between. "Kaminwurzen" are also used in a cut-up form of dice to serve as a filling in dumpling dough.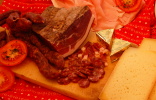 Enjoy a typical South Tyrolean "Marende" with Speck, Kaminwurzen and aromatic Almkäse!
Cheese from South Tyrol
Graukäse (Gray Cheese): "Graukäse" is a very special form of aged Ricotta cheese. It has a low fat content and is flavorful and pleasant.

The aging time is only about 15 days. "Graukäse" must not be stored too long but has to be eaten within a short period of time after purchase due to its tendency to acquire a sour aftertaste.

South Tyrolean Almkäse (Alpine Pasture Cheese): South Tyrolean "Almkäse" is a piece of pure nature. The natural surrounding (there are approx. 1,500 high alpine dairy operations in South Tyrol, still providing an ample supply of natural pastures), the proper management, and the good food supply for the cows create a special kind of milk for the production of the "Almkäse".

The "Almkäse" is created through a delicate process without chemical additives or flavor enhancing substances. Only the fresh high-alpine milk enriches it with its natural mild aroma.
Typical South Tyrolean Bread
Vinschgauer Schüttelbrot: "Schüttelbrot" is a mildly flavored flatbread variety made from rye and wheat flour. The dough is being shaken during baking till it ends up being extremely thin.

This bread variety is commonly enjoyed crunchy and on the hard side. It's best together with Speck, sausages or cheese.

Vinschger Paarl: "Vinschger Paarl" are most often pairs of connected well-seasoned flat breads made from rye flour. These are – as indicated by their name ("Paarl" is german for "pair") - baked together. The dough will be seasoned with fennel- and caraway seed or such.

Südtiroler Zelten: A fruit bread of a special kind. Dried nuts and fruit are mixed into the dough, but no flour, which gives the "Zelten" its incomparable flavor.
Desserts and Sweets from South Tyrol
Tirtlen: "Tirteln" are pastries made from rye flour which are fried in in hot oil. The shape of the "Tirteln" is a flat circle and they are usually filled with seasoned spinach, quark, or sauerkraut.

Südtiroler Krapfen: Their shape is as multi-faceted as their flavor. "Krapfen" are fried pastries filled with jam, sweet chestnuts cream, poppy seed, fruits, berries or curd.