Merano Thermal Baths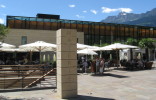 Through the glass walls of the new spa building, which was opened in 2005, the mountains surrounding Merano can be seen from the inside.
Ever since 1971, you can enjoy health spas in Merano. The spa district with the thermal baths extends on both sides of the Passer river.
The 30 – 35°C warm water in the thermal bath contains radon. It comes from the Vigiljoch sources at Bärenbad and is beneficial to circulatory problems and arthralgia.
The thermal center has been remodelled quite recently and reopened in 2005. Beside the new spa building, a cube made from steel and glass, and the thermal baths belongs a large spa gardens to the spa area, which invites you to relax under old beautiful trees.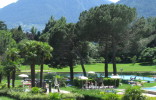 At the spa gardens and the outside area of the thermals baths of merano one can relax and enjoy the sun and the view to Vigiljoch, Ifinger and Texelgroup.
Well being at the Thermal Baths in Merano
The thermal baths in Merano have:
different health spas
an outdoor swimming pool
a thermal pool
spa and health section
a sauna complex
various massage rooms
a conference centre, as well as
a restaurant and a bar
Apart from the radon spas, you can also treat yourself with fango cures and spas with medicinal herbs or ozone admixtures. The classic grape cure with freshly harvested Vernatsch grapes is still used successfully for metabolic disorders, kidney-, liver- and gall bladder complaints, as well as for heart- and circulatory problems.
We recommend to take a comfortable walk along the promenades of Merano after your visit of the Thermal Baths and enjoy the beautiful landscape of Merano - pure well being!