Merano in South Tyrol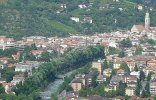 Merano:
coordinates:
46°40′ N, 11°10′ E
elevation:
325m (center)
population:
approx. 35.000
The health resort Merano
The quaint little town of Merano has been a popular place of establishment in the past, with many famous scientists and doctors.
Above all, they appreciated the clear, curative air and the mild, Mediterranean climate of this health resort in South Tyrol.
Beside the healthy climate there is also a thermal bath in Merano. The water, which contains radon, helps to cure circulatory problems and arthralgia.
Not only in South Tyrol, but far across its borders, Merano and the Meranerland have become a synonym for mild climate and fresh air.
Therefore give yourself a treat and book a room in a hotel in Merano and relax during well being holidays within the Meranerland.
The historical Merano
For centuries Merano was considered to be the centre of Tyrol's counties.
Its cultural landscape is enriched by many splendid and magnificent buildings, especially castles and mansions, dating back to the period of the counts and earls.
During the decades much attention and interest was dedicated to this spa in South Tyrol, and therefore Merano has become a well known town.
Merano Impressions
Left: The Art Nouveau Spa Hotel at the spa promenade is one of the landmarks of Merano, venue and seat of the spa administration of Merano.
Centre: The Tappeiner Trail allows a magnificent view across the spa town of Merano with the steeple of the Parish Church of St. Nikolaus in the foreground.
Right: The longest arcade of South Tyrol can be found in Merano, it leads from the Pfarrplatz to the Kornplatz. A number of shops, cafes and restaurants can be found in this lively street.

Left: The Rennweg is one of the main roads in the centre of Merano. Walking the Rennweg towards Küchlberg leads to the Vinschger Tor, one of the old town gates of Merano.
Centre: The Steinerne Steg (built 1617) connects the summer and winter promenade, running along the Passer, and is the oldest bridge across the Passer in Merano.
Rigtht: The modern thermal building of the Merano spa strikes due to its modern architecture. Nevertheless it harmonises with the character of Meran and the panorama of the surrounding mountains.