The Event Card and how it works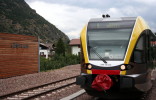 The Vinschgerbahn, which runs between Mals and Merano daily, permits bikes to be taken.
The Event Card for the Vinschgerbahn includes the daily railway ticket between Merano and Mals and a leased bike (incl. helmet), obtainable from the 6 bike rentals of the railways in Merano, Naturns, Latsch, Spondinig, Schlanders and Mals as well as from the ticket vending machines at the railway stations and in the train (vending machine in the bike compartment – have change ready!), the Vinschger tourist offices and from those stores which bear the logo of the South Tyrolean transport authority.
At all leasing stations bikes (mountain bikes, city bikes, trekking bikes and bikes for children) can be hired and returned.
The price of the Event Card is 14 € (rental fee without train 10 €), for children and juveniles up to the age of 16 7 € (rental fee without train 5 €) and for kids up to the age of 6 years the rental fee for the bike is 5 € (the train ride is free of charge).
Beside the Vinschgerbahn it is also possible to use the bus from Mals up to the Reschenpass. Bike rentals can be found here and at the Messebahnhof in Bozen Süd.
It is also possible to take your own bike on bord the Vinschgerbahn, provided there is enough space. The ticket costs 4 € per bike.
Prices in September 2008