Schluderns and Churburg castle
Schlunderns (921 m), at the junction of the wild-romantic Matscher Valley, does not lie directly on our route. We therefore settle for a sight of the glorious castle from the distance and decide on a separate sightseeing another day.
Churburg Castle is one of the most remarkable fortified residences of the nobility in South Tyrol. It presents itself in a location rich in outlook and has for centuries been the residence of the same aristocratic family until today.
The architectural show-piece of the castle is the three-levelled loggia yard with a painted arch of arcades on all four sides.
Now back to the bikes! After a stretch of approx. 10 km asphalted cycling truck along the Etsch we leave the river at the height of Spondinig, turning right to Prad am Stilfser Joch. Via the nature reserve "Prader Sand" we have to cycle from the fish-ponds to the sport complex at the outskirt for approx. one kilometer on a paved gravelled path.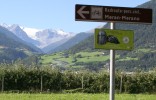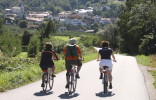 Left: View into the Trafoier Valley to the Ortler Alps, which border the Vinschgau in the south.
Centre: Swiftly we cycle along the Etsch bikepath near Tschengls.
Right: Now it is not much further to Laas and our lunch.
Cappuccino in Prad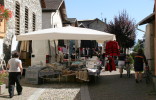 Today is market day in Prad am Stilfser Joch and we push our bikes past some market stalls.
We reach Prad (915 m), at the entrance of the Trafoier Valley, a few minutes past 11 o'clock. Here we crown our first stage with a cappuccino in front of a row of medieval houses, push our bikes between some market stalls and leap back onto our saddle 30 minutes later.
Through the Prader Feld we follow the lane past Tschengls and return to the Etsch at the height of Eyrs. Along this stretch till Marmordorf Laas, tables and banks are again and again inviting to stop and picknick. The cycling track is nothing less than perfectly asphalted and the kilometers just roll away.
Lunch in Laas
Of course, marble had been used for the construction of the Laaser Parish Church of St. John the Baptist.
Laas (817 m) is well known for its "white gold", as they like to call it here, a precious pure white marble, that had already been mined during the Roman Age.
The huge marble deposits are being mined from the mountains and processed at the marble plant next to the railway station of the Vinschgerbahn.
Since Prad we have done another 10 km and allow ourselves a lunch break with noodles, bruscetta and drinks. For that we briefly left the cycling track to get to the centre of the town.
We are quite amazed, even the pavements are plastered with snowwhite marble!
Before we return to the cycling track and get started, we allow ourselves a short detour to the Laaser Parish Church with the Romanesque round apse east wall, built with marble, naturally.