From St. Martin im Kofel to Schlanders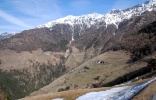 The Sonnenberg in the Vinschgau is ideal for hiking trips in spring and autumn.
It stands out due to the beautiful view into the Vinschgau and to the opposite Ortler Alps.
The Vinschgau Sonnenberg in South Tyrol with its veld-like vegetation is particularly recommended for hiking trips in spring and late autumn.
In summer it gets hot and sticky here and even the wonderful view from the mountain- and panoramic paths loses its charm if the hiker has to fight with the heath.
While on the other side of the valley, the green Nördersberg, there is still snow to be found in lower sites, are the paths on the Sonnenberg at the beginning of April quite often up to 1.700 or 1.800 meters to a large extent free of snow and walkable.
The Schlandrauner Höhenweg is one of the most beautiful observation paths of the Vinschgau and is especially in spring almost deserted.
Although the hiking trip leads at the beginning from St. Martin im Kofel to the Höfen Egg (a stop for a snack) and Forra over a road that is partly asphalted, the fantastic view down into the valley and to the opposite glaciers of the Ortler Alps makes up for it at all times.
All together, this path is not at all boring, as one might mistakingly assume at the beginning, on the contrary, it is very diverse and interesting.
Meadow-trails and rock-paths, farmyards and ruins, forest tracks and a wonderful view are characteristic for this hiking trip on the Vinschgau Sonnenberg.