Schlanders in central Vinschgau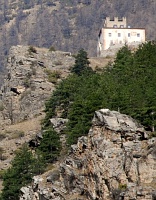 Castle Schlandersberg lies spectactulary high above Schlanders at an altitude of 1.060 m.
We have reached our derstination. It is shortly before 2 o' clock when we get to Schlanders (721 m), the main town of central Vinschgau. Göflan, Vetzan and Kortsch are fractions of the central place.
Nearly 6.000 inhabitants can be counted here. Fruit-growing, agriculture and tourism are the decisive factors, but also industry, handicraft and trade play an important role.
On top of it, the modernised hospital with approx. 400 staff members and doctors an is important employer.
Schlanders is rich in ancient buildings, foremost the appearance-of-the-town defining Parish Church Maria Himmerfahrt with its more than 90m tall characteristic steeple and the pretty little Spitalskirche (Hospital Church) at the end of the main road.
Above all Castle Schlandersberg (private poperty) thrones high up on a naked rock with a far-reaching view.
We finish our tour with window-shopping along the shopping area and a cappuccino (or was it a large beer?) in one of the street cafes.
There is hardly anything to buy today, because it is Saturday afternoon and shops are closed since 12 o'clock. Workdays they are open at 15 or 15.30 hours again, but not today.
Our hiking trip in retrospect
The diverse Schlandrauner Höhenweg is an experience. It offers a marvellous view to the Orter Alps and the Vinschgau as well as a historic background!
In total we have been on the move for 4 hours since St. Martin. Deducting time for breaks and photo stops, those 3 hours pure walking-time, pointed out on the signposts at the start, remain.
At our descent we have done a good 1.000 m in hight and found it very amusing. The phantastic view, the diverse route and the historical background have contributed. In short, a hiking trip that can be recommend to be copied!
Back to Merano with the Vinschgerbahn
For our return to Latsch and to our car we want to take the Vinschgerbahn – for us the smartest way to travel through the Vinschgau.
But now we finally have a small problem! With all the excellent signposts on this path as well as others, we cannot find one that would tell us how to get from the village centre to the railway station out-of-town.
Nevertheless, we still manange to catch the next train at 15.48 hours and 12 minutes later we are back in Latsch.